Featured Project » Gazelle Widget UI Design
PROJECT DESCRIPTION
»
Hot Knife Design was hired to create the user experience for a free standing widget that would work with Gazelle's unique reverse e-commerce service, which purchases used electronic gadgets, like cell phones, digital cameras, and gaming systems from consumers.
Gazelle's "re-commerce" model is becoming increasingly popular as people look for green ways to reuse and recycle their electronics.
Hot Knife worked with the Gazelle product team to first sketch and wireframe the widget screen states, then provide pixel accurate screen drawings, which were implemented in Flex.
The Gazelle widget is available for non-profits and other organizations to use on customized Web pages where they can use
"Gazelle for Good"
and raise funds for their particular cause.
DESIGN ENGAGEMENT
»
Visual Design / User Interface Design / Information Architecture
PIXEL ACCURATE SCREEN DRAWINGS
»
Featured Project » Localytics Mobile Analytics User Interface
PROJECT DESCRIPTION
»
Hot Knife Design helped the team at
TechStars, Boston
startup
Localytics
re-conceptualize and re-design the user experience for their Web application, which provides robust analytics for mobile apps. The Localytics analytics application for developers can track mobile app usage from platforms including Android, Blackberry, and the iPhone.
Project challenges included revealing the application's rich functionality without confusing newer users, and a tight deadline for design and production. Hot Knife conducted an intense product architecture session with the Localytics founders to determine the overall scope of the user interface, sketched preliminary designs, and proceeded to pixel perfect screen drawings.
The Localytics analytics engine for mobile applications was recognized by the Massachusetts Innovation & Technology Exchange (MITX) as a finalist in the 6th Annual MITX Technology Awards for "Analytics and Business Intelligence."
DESIGN ENGAGEMENT
»
Visual Design / User Interface Design / Interaction Design / Information Architecture

VIEW THE LIVE APP
»
Localytics Mobile Analytics Application
PIXEL-ACCURATE SCREEN DRAWING
»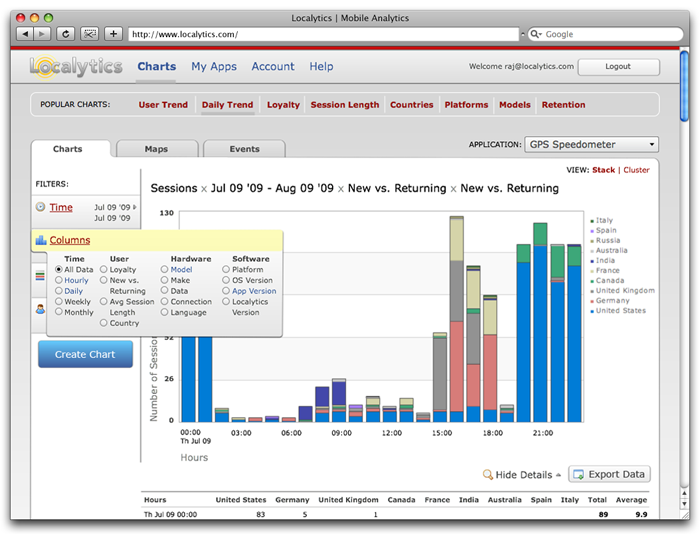 On the Boards: Binner IT Web Site
Hot Knife has been working with long-time client
Binner Information Technologies
to redesign the firm's Web site. The new site emphasizes the Lexington, Mass.-based value-added reseller's broad expertise and commitment to 24/7 on-call service. The redesign also allows Binner to highlight case studies of past work, feature client testimonials, and provide a collection of live RSS feeds of current security threats to their IT clients.
Silver Scenic Web Site
Hot Knife worked with New York set design company
Silver Scenic
on redesigning their Web presence and corporate identity.
Silver Scenic has produced beautiful, ground-breaking sets for a wide range of cable and broadcast television clients including the
Food Network
,
Premio Lo Nuestro (The Latin Music Awards)
, and Latin talk show powerhouse,
the Cristina Show
.
The new site allows Silver Scenic to present all of the company's award-winning set designs at a glance on one page, revealing larger
photographs via a space-saving Javascript lightbox function. A moving slideshow at the top of the page cycles through some of the firm's most outstanding photographs to entice visitors.
Engagement:
Visual Design, Web Design, Web Development (HTML/CSS, Javascript)
View the Project:
Silver Scenic
Clarke Caton Hintz Web Site and Custom CMS
Hot Knife recently renovated the Web site of long-time client
Clarke Caton Hintz.
The face of the site was updated to put more emphasis on news stories about the architecture firm's achievements, and to give the text and photos more legibility and impact on today's larger monitors. Behind the scenes, the 225+ page site was given a more robust, database-driven engine that allows for a great deal of automation (including dynamic "related links" lists and Flash movies that are generated on the fly from static JPEGs) as well as easy updates in the future.
Hot Knife also developed the "CCHWeb" Content Management System (CMS) to allow Clarke Caton Hintz to manage the content of its Web site in-house. This browser-based application gives an administrator the ability to update and change every piece of text on the site, upload photos and PDFs, and create or delete portfolio, staff member, and news pages. The user interface features tab-based navigation, rich-text editing, and preview screens to show administrators how their changes will look when live.
The Nureyev Legacy Collection, from the Archives of the NYPL
Hot Knife has been working with the Nureyev Legacy Project (an organization dedicated to preserving and enhancing the legacy of dancer Rudolf Nureyev through the publication of rare photos and texts) for almost two years. We previously helped the NLP by creating pre-production Web sites to generate buzz and share information about the organization's anticipated publication of the book,
Life Behind the Metaphor
. Now,
Life Behind the Metaphor
is printed and ready to share with the public. This new stage in the organization's life-cycle demanded a new Web site as well:
The Nureyev Legacy Collection
, where fans of ballet and fine photography can research and purchase all of the NLP's offerings, from books to museum-quality platinum and silver prints to original stage and costume drawings dating back to Nureyev's 1978 US tour. The site also feeds in headlines and excerpts from the NLP's blog, allowing the organization to keep visitors abreast of new offerings or special events and exhibitions.
The Hackett Advisor Web Site
In collaboration with business and technology consulting firm, Answerthink, Inc., Hot Knife created The Hackett Advisor, a 15-page best practices newsletter Web site for strategic advisory company
The Hackett Group
.
Hot Knife was responsible for Web site development, CSS stylesheet editing, and LightBox javascript module implementation.
UXnet Web Site Refresh
Hot Knife contributed visual design and Web development assistance to the 2007 refresh of the UXnet Web site. Constructed using WordPress for ease of maintenance, the Web site features news feeds from a variety of sources, events postings, and information from locales across the globe.
UXnet is an international non-profit concerned with connecting people, organizations, resources, and ideas to enable the growth and maturation of User Experience as a practice, a community, and eventually a discipline.
Lake Contracting Web Site and Collaborative Web Application
Lake Contracting Inc.,
a general contracting company serving the General Boston area, required a Web site to showcase portfolio projects, provide information on company capabilities to potential new clients, promote Lake's accomplishments and significant community involvement with charitable organizations, and interact with subcontractors. The site also needed to provide support for Lake's marketing and PR efforts.
Hot Knife was responsible for all design, writing, and development for the site, which features a portfolio section built in Flash and "take away" marketing sheets in PDF. The site also includes the "LakeBuild" back-end Web application, which makes it possible for Lake's project managers to post the details of upcoming bids—including blueprints and other building and engineering documents—online for subcontractors to review.
Diversified Builders Web Site
Hot Knife provided visual design, content development, and information architecture for the web site for Diversified Builders, LLC, a custom residential construction firm located in central Connecticut.
Isabont Web Site Design
When Boston-based start up Isabont required a rapid redesign for the public facing portion of their Web site, Hot Knife delivered the time-sensitive project within two weeks of receiving the assignment.
Isabont needed a more attractive look and feel to interest customers in the company's online career and job search management Web application. Hot Knife created a new visual design and layout, including a semi-custom icon set, and coded the HTML/CSS.
Glance Networks MacWorld Microsite
Hot Knife created this
microsite
to serve as a landing page for a Glance gift card promotion. Potential customers at the MacWorld conference received the plastic cards which advertised a free month of Glance and directed them to this Web site, where they could redeem the cards.
The site was part of an extensive marketing campaign that Hot Knife created for the Glance Mac launch, the company's first foray into the Macintosh OS market.
Concert Pharmaceuticals Web Site and Custom CMS
Hot Knife created a Web site for
Concert,
a young pharmaceutical company based in the Boston area. An elegant content management system allows administrators of this rapidly growing company to add news articles and job listings from any Web browser.
Landbrokr UI Design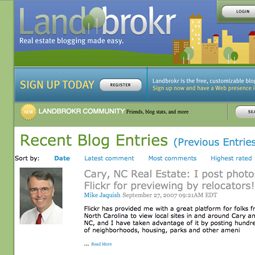 Hot Knife did a number of things to help
Landbrokr.com
get their real-estate blogging community site online. We created a complete User Interface design for both the member blogging system and for the public front end of the site. We also provided CSS coding, and assisted with the company's overall branding strategy.
Selected Clients, Contracts, and Employers:
Government
Connecticut Innovations
Massachusetts Public Employee Retirement Administration Commission
Massachusetts State Senator Tom McGee
Media/Publishing
Hearst New Media
Hearst Magazines
Random House, Inc.
American Library Association
Commercial Vehicles
Saul Bellows' News from the Republic of Letters
The Rooney Report
Kristen Magnacca, author of Everyday Certainty
Cat and Crossbones Productions
Architecture/Construction
Clarke Caton Hintz
Lake Contracting, Inc.
Diversified Builders, LLC
Square Peg
Four Directions Design Studio
High Tech
Glance Networks
Isabont.com
Binner Information Technologies
Landbrokr.com
UXnet
Usability Professionals Association, Boston
NeoVision HeatMaps
Cortel Communications
Point of View
Experience, Inc.
Professional Services
Robert T. Smart, Attorney
Bianco Marchilonis Design
Anastasia Design
Cashmere Coaching
Imaging Joy
Beauty Ministry
Special Occasion Servers
Retail
Sapphire Sky, LLC
Majestic Jewelers
Non-Profit and the Arts
New York Public Library
Scenic Hudson
Anti-Defamation League
Nureyev Legacy Project
Student Art Space
Ohmland
A2N2
Financial Services
Consulting
Answerthink Inc.
The Hackett Group
Urban Wallace Associates
Insight Development Group
Clearwater Productivity, LLC
Healthcare
Concert Pharmaceuticals
OneMedicine.com
Integrative Medicine Communications